07.26.10
My illustration Cirque du Slay won both the Grand Prize and Viewer's Choice awards at Slayalive.com's Fanart Contest, judged by Dark Horse Comics artist George Jeanty (Buffy the Vampire Slayer: Season Eight). He wrote:
GRAND PRIZE: Cirque Du Slay. This was hands down the most creative of the bunch! I love how you did this. It makes me wish I had done a Circus type cover for the series! It's so obvious! All of the characters are there! For me this one received the award it did because of creativity. We could argue about the likeness, but hey, even in their clothes I could tell who they were.Well done! I hope you've chosen a field in the arts because you are really good!"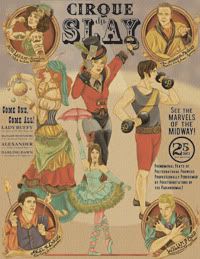 (Click for full-sized version.)
I'm very happy to have been picked to win, and here's my prize, a piece of original artwork from the Buffy series written by Joss Whedon and illustrated by Georges Jeanty.